201x7 STRONGLY BASIC STYRENE TYPE ANION EXCHANGE RESIN
---
This product is a type of anion exchange resin with the quaternary groups [-N (CH3) 3] on styrene-divinylbenzene copolymeric backbone. It has an excellent mechanical strength and a high heat-resistance.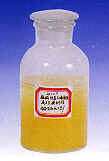 International reference brands:
American: Amberlite IRA-400
German: Lewatit M500
Japan: Diaion SA-10A
Applicable standard of product: GB 13660-92
1.Appearance: light to golden yellow spheroidal particle.
2.EX-factory type: Chlorine type.
3.Indexes of Physical and chemical properties: table
Designation
Indexes
super grade
first grade
Moisture content, %
42~48
Total Gravimertric Exchange
Capacity,mmol/g >=
3.6
3.4
Total Volumetric Exchange
Capacity,mmol/g >=
1.4
1.3
Neutral salt decomposing
capacity, mmol/g >=
3.2
3.0
Apparent Wet Density,g/ml
0.66~0.75
True Wet Density,g/ml
1.06~1.11

Particle Size,%

0.315~1.25mm,
mmol/g >=
95
<0.315
<=
1
/
Effective Size,mm
0.42~0.58
Coefficient of Uniformity <=
1.7
Ratio of Milled Sphere, % >=
95
90
Remark
201-SF
Size, mm
0.60-1.25
Reference Indexes for Operation:
1.PH range: 0-14
2.Working temperature(°C):chlorine type≤80,hydroxy type≤60
3.Swelling, % (CI→OH-):≤32
4.Height of resin layer for industrial use, m: 1.0-3.0
5.Concentration of regenerate solution, %, NaOH: 4-5
6.Consumption of regenerate: kg/m3 (based on 100%) NaOH (industrial): 40-80
7.Flow rate of tegenerant solution, m/h: 4-6
8.Regenerant contact time, minute: 30-60
9. Rinse flow rate, m/h: 15-25
10.Rinse time, minute: ca.25
11.Operating flow rate, m/h: 15-25
12.Working exchange capacity, mmol/l (wet): ≥450
This product is mainly used for preparing pure and high purity water, waste water treatment, and extraction of biochemicals and radioactive elements. It is also used in catalyst.
Woven bag, drum or carbonated plastic carton, each lined with plastic bag. Net weight: 25kg