001x7 STRONGLY ACIDIC STYRENE TYPE CATION EXCHANGE RESIN


This product is a type of cation exchange resin with the sulfonic groups (SO3H) on styrene-divinylbenzene copolymeric backbone. It has the advantages of high exchange capacity and rapid exchange velocity and strong mechanic strength.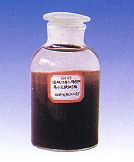 International reference brands:
American: Amberlite IR-120, Dowex-50
German:Lewatit-100
Japan:Diaion SK-1
Applicable Standard of Product: GB 13659-92
1.Appearance: brown yellow to brown spheroidal particle.
2.EX-factory type: Na+ type
3.Indexes of Physical and chemical properties: table
Designation
Indexes
super grade
first grade
Moisture content, %
46~52
45~53
Total Gravimertric Exchange
Capacity,mmol/g ≥
4.5
4.4
Total Volumetric Exchange
Capacity,mmol/g ≥
1.8
1.7
Apparent Wet Density g/ml
0.77~0.87
True Wet Density g/ml
1.24~1.28
*Particle Size %
0.315~1.25mm, ≥
95
<0.315 ≤
1
/
Effective Size,mm
0.40~0.60

Coefficient of Uniformity ≤

1.7
Ratio of Milled Sphere, % ≥
95
85
* Resins of different size can be produced in accordance with client's need.
Reference Indexes for Operation:
1.PH range: 0-14
2.Working temperature(°C):Na form≤120,H form≤100
3. Swelling, %(Na+→H+)≤10
4. Height of resin layer for industrial use (M):1.0-3.0
5. Concentration of regenerate solution(%):
NaCI:4-10 ; HCI:2-5; H2SO4 :1-2; 2-4
6. Consumption of regenerate: kg/m3(based on 100%):
NaCI (industrial):75-150 ; HCI (industrial):40-100; H2SO4 (industrial):75-150
7. Flow rate of regenerate solution(m/h):5-8
8. Regenerate contact time:(minute):30-60
9. Rinse flow rate(m/h):10-20
10. Rinse time(minute):ca.30
11. Operating flow rate(m/h): 10-40
12. Working exchange capacity, mmol/l (wet):
Regeneration with NaCI≥1000
Regeneration with HC I≥1500
This product is mainly used for softening hard water and preparing pure and high purity water. It also serves as catalyst and dehydrolyzing agent. In addition, it is used in separation and purification of trace elements as well as hydro-metallurgy and pharmaceutical industry.
Woven bag, drum or carbonated plastic carton, each lined with plastic bag. Net weight: 25kg.