PE HETEROGENEOUS ION-EXCHANGE MEMBRANE
---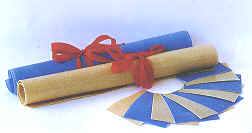 PE heterogeneous ion exchange membrane is made from styrene sulfonic acid type cation-exchange resin and styrene quaternary ammonium type anion-exchange resin, with PE as adhesive agent. They are plasticated on two rool mills set on nylon web and laminated into PE cation-exchange membrane (hereinafter referred to as cation membrane) and PE anion-exchange membrane (hereinafter referred to as anion membrane).
Ⅰ.PRINCIPLE OF EXCHANGE
Cation membrane contains strongly acidic group R-SO3 with negatively electric field so that ions with positive charge can be attracted and pass through the membrane. Anion membrane contains strongly basic group R-CH2N+(CH3)3 with positively electric field so those ions with negative charge can be attracted and pass through the membrane.
Ⅱ.STANDARDS OF PRODUCT
1.Appearance:
[a]. Heterogeneous ion-exchange membrane should have a flat and homogeneous surface and an uniform color without pin hole and obvious mechanical damage (such as creases or folds), detachment from the web and impurities that impair membrane quality.
[b]. Anion membrane is brownish yellow. Cation membrane is light blue.
[c]. Specification:
Type
Effective Area,(mm²) >=
Heterogeneous cation exchange membrane
800x1600,800x800

400x1600,400x400

Heterogeneous anion exchange membrane
2. Pbysical and Chemical Properties:
Designation
Indexes
cation membrane
anion membrane
water content ,%
40~55
30~45
exchange capacity ,mol/kg ≥
2.0
1.8
surface resistance of membrane,Ωcm ≤
15
15
permeaselectivity,% ≥
90
88
thickness in dry state ,mm
0.42±0.04
0.42±0.04
burst strength ,MPa ≥
0.35
0.35
Ⅲ. USAGE
Heterogeneous ion-exchange membrane, containing sufficient fixed groups and dissociated ions, has a definite selectivity and conductivity on charged ions. It is widely used in electrochemical industry for separation of different kinds of ions as required. It is the heart of electrodialyzer. For example, it can be used to desalinate sea water or brackish water, to remove salt in the process of concentrating solutions, to prepare inorganic compounds electrolytically, to recover and to purify radioactive elements, to soften and desalinate water for boiler, and to process industrial products in metallurgy, coal, electronics, pharmaceuticals, chemical engineering, food and other industries.
Ⅳ. PACKING, TRANSPORTATION, STORAGE
1. Heterogeneous ion-exchange membrane is packed in carton lined with plastic bag, 40 sheets per carton. On the carton, the following data should be marked: name of producer, name of products, batch number, colour, date of production, net and gross weight. To each carton is attached a quality certificate issued by QC department, Precautions on transportation should also be marked on the box.
2. The product should be stored in a clean, cool, dry and well-ventilated warehouse. No exposure to direct sunlight and rain or mechanical damage should happen during transportation.
3.The product should not be stored for more than two years.
HOW TO USE HETEROGENEOUS ION-EXCHANGE MEMBRANE
Ⅰ. PRETREATMENT
1.Before using, heterogeneous ion-exchange membranes should be immersed in clean water for 2-3 days. Cut off the unwanted web on the edges. Pile layers of web crossly in moving water.
2. Since usually after use cation membranes shrink slightly while anion membranes still expands, it is advisable to further treat the membrane in the following manner:
a. Anion membrane is further immersed in soft or distilled water to obtain full expansion.
b. Cation membrane is further immersed in salt water to effect contraction.
3.Before tailoring and punching, it is necessary to immerse the membrane once more in original medium or water for a day. Then tailor and punch as the size of spacer. The area of membrane should be a little smaller than that of spacer.
Ⅱ. REGENERATION OF EXCHANGE MEMBRANE IN ELECTRODIALYSER
Acid wash period of membrane depends on the dirtiness on the surface, usually about 7-10 days. Since the membrane is not acid resisting, the concentration of hydrochloric acid used in acid wash should not exceed 3%. In the beginning HCI is quickly consumed and should be replenished until the consumption ceases in 1-2 hours. After acid wash, rinse the membrane with original water until pH=4-5 about for 10 minutes. Then the membrane may be put into operation. (the dilute, concentrate and electrode water should be washed at the same time.)
Ⅲ. REQUIREMNT FOR FEED WATER OF ELECTRODIALYZER
Turbidity≤3ppm
Oxygen consumption<2ppm(KmnO4 method)
Chlorine content <0.2ppm
Iron content <0.3ppm
Manganese content<0.1ppm
Water temperature 5-40℃
Hardness: The water with hardness above 900ppm should be softened.
Ⅳ. MENDING OF MEMBRANE
To mend small damaged holes, place a patch of PE packaging film on the hole, put and iron a second patch of heat-resisting cellophane paper or other materials on the first patch so that the hole can be sealed.
To store spare membranes, It'd better immerse membranes in clean water and dry them sheet by sheet. To keep membranes in wet state, do not immerse them in stale water for long time. Water should be changed periodically. Avoid mildewing in summer and freezing in winter.