A fan is easy to find, but MCM fans are more than a simple one. Refreshing for sure, but esthetic is the touch that MCM propose you. With our 21 different models of ceiling fans, LINAN EURO-CHINA will supply to your building construction, the equipment that you need.
With our ceiling fan and our decorative fan you will create the atmosphere of intimacy between you and your partners, for a friendship relations, for a tourist or for a businessman in his hotel during a meeting or a rest, our fans are the touch, which will make the difference between you and another one.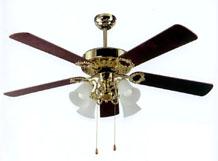 MCM ceiling fans carries out the responsibility system of general management which is led by the directorate and divided into general manager office, administrative department, two producing factories, financial department, material department, marketing department and ensuring safety department which can carry on the operation of daily affairs separately.
We offer wide ranges of electric ceiling fan. The first one includes electric fan, ceiling fan, and decorative fan. MCM ceiling fan products have already been distributed to the Middle East, North America, Europe, Southeast Asia and more than 20 provinces and cities in China. The approval of Domestic Supreme Grade Institution and international authorized organization was awarded to our ceiling fan products.
For over 20 years, our major idea is creating comfortable and healthy life for people. We have fetched in the advanced management and technology, have formed the new and excellent enterprise competitive pattern come. As the new century begins, we are willing to work together with knowledgeable person to create resplendence!