SYWV(Y)-75 TYPE POLYTHENE PHYSICAL HIGH-FOAM CABLE
PRODUCT INTRODUCTION
SYWV(Y)-75 TYPE polythene physical high-foam cable has low medium loss injecting gas enable medium has foam, then very little mutual sealing gas holes appear through selecting proper technical parameters. This kind of medium is not easy to be ageing and moisture.
The inner conductor is purple copper wire, while the outer one is Aluminum pipe or Aluminum and plastic belt adding tin-plated copper wire weaning. Because the medium and inner conductor are combined tightly, relative movement won't appear between them.
Compared with other radio frequency cable of a same size, SYWV(Y)-75 TYPE cable has a less attenuation transmitting high frequency signal and ultra-high frequency signal, it is applied to CATV and closed circuit television system. Its parameters have reached the international standard of radio frequency cable.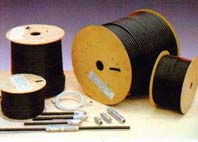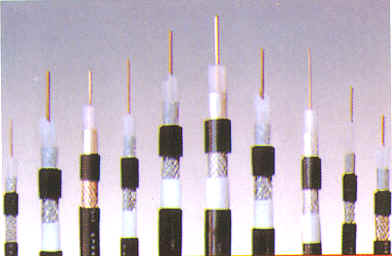 SYWV(y)-75 Type Cable Structures Measure
| | | | | | | |
| --- | --- | --- | --- | --- | --- | --- |
| SYWV(Y)- 75 | -5 | -7 | -9 | -12 | -15 | -17 |
| innerconductor (mm) | 1.0 | 1.6 | 2.0 | 2.6 | 3.50 | 4.00 |
| insulation | 4.80 | 7.25 | 9.00 | 11.50 | 15.00 | 17.30 |
| outerconductor | 5.80 | 8.30 | 10.10 | 12.60 | 15.68 | 18.10 |
| over Jacket (mm) | 7.50 | 10.60 | 12.60 | 15.40 | 17.28 | 20.50 |
| approximatemetweiht (kg/km) | 43 | 65 | 93 | 142 | 207 | 291 |
SYWV(y)-75 type cable electric behavior
SYWV(Y)-75

-5

-7

-9

-12

-15

-17

insulation resistance (MW.km)

10000

10000

100000

10000

10000

10000

dielectric strength(kV)

1.6

1.6

1.6

1.6

1.6

1.6

wavevelocity rate%

84

86

86

86

87

87

capacitance PF/M

52

52

52

52

52

52

impedance(W)

75

75

75

75

75

75

maximum DC resistance
inner conducter ( W.km)

/

/

4.90

2.90

2.00

1.39

outer conductor(W.km)

/

/

5.30

4.20

1.75

1.29

retum loss
VHF(DB)

20

20

20

23

23

23

UHF(DB)

18

18

18

20

20

20

attenuation(±0.5%)

(dB/100m)

5(MHz)

1.25

0.83

0.67

0.53

0.405

0.352

55(MHz)

4.29

2.82

2.29

1.81

1.41

1.26

83(MHz)

5.19

3.48

2.83

2.24

1.76

1.54

211(MHz)

8.36

5.69

4.65

3.72

2.94

2.60

300(MHz)

10.10

6.87

5.64

4.52

3.59

3.19

450(MHz)

12.59

8.61

7.04

5.67

4.10

3.91

500(MHz)

13.26

9.06

7.47

6.02

4.82

4.30

550(MHz)

13.9

9.51

7.87

6.39

5.32

5.21

865(MHz)

17.80

12.28

10.20

8.28

6.70

6.01

1000(MHz)

19.20

13.30

11.00

9.0

7.33

6.59